Pick To Light Solutions
ScanTech offers innovative Pick To Light Technology that provides efficient and accurate picking, sorting and replenishment of products. Easily visible lights located directly on the storage bin indicates where the next item is to be picked or to put away and a display systems located there indicates the number of items to be kept or retrieved.
Features:
One of the fastest, intuitive and versatile Person to Goods System.
Easily Integrates with existing ERP / WMS Systems
The System can be used as a single color or multi color system as per business requirements
Can be easily integrated with Barcoding and other Technologies for seamless Inventory Updating and Reports Generation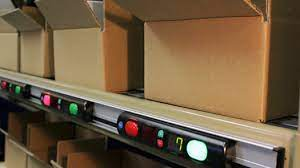 Print & Apply Labels
ScanTech offers reliable Automatic Printing & Applying System that can handle dynamic data and apply the labels on the products/carton boxes quickly and accurately, that are designed to meet the industry standards of logistics and supply chain requirements.